A cookie usually contains the name of the domain from which the cookie originates, the 'lifetime' of the cookie and a value, normally a randomly generated unique number. There are two types of cookies, namely:
Functional cookies: these are temporary cookies that remain in your browser's cookie file until you leave the website. There is no need to request consent for this purpose. In fact, these cookies do not have to be described in the cookie statement, although we still think it is a good idea to do so. You cannot indicate whether or not you wish to allow functional cookies. It can generally be stated that without functional cookies, you cannot use websites properly.
This website does not use any functional cookies.
Non-functional cookies: these cookies remain in your browser's cookie file for much longer (the exact duration depends on the lifetime of the cookie in question). Non-functional cookies are independent of the main purpose of the website. Our websites, as listed in the contact details, and some third-party components also use non-functional cookies.
You can indicate on our websites whether or not you wish to allow these cookies.
Non-functional cookies are used:
To recognise you as a unique visitor when you return to our website (via a number; you cannot be identified personally);
To tailor information or advertising to your interests or to prevent you from always seeing the same advertisements;
To compile anonymous statistics from which we can deduce the use of our website, so we can improve its structure. However, we will not be able to identify you personally in this way.
kasteelvalkenburg.nl uses Google Analytics. The above statistics are collected via Google Analytics. Google Analytics mainly uses direct (first-party) cookies to report on visitor interactions on your website. These cookies are used to store non-personally identifiable information. Direct cookies are not shared with multiple domains.
Third-party cookies
Other companies cannot place cookies on the websites listed in the contact details.
Enabling and disabling cookies
You can enable or disable cookies by adjusting your browser settings. However, if you disable cookies, you may no longer be able to use all of our website's interactive features.
How can I rectify data stored about me?
You will need to contact us by e-mail to have your personal data altered. You can, of course, inform us that you no longer wish to use the service in question and ask us to delete your personal data, insofar as there are no legal obstacles.
What happens if I do not wish to register?
Without registration or disclosure of personal data, you will still be able to use most of Valkenburg Castle Foundation's website. However, you will not be able to access the parts of the website that require registration. Without registration, we also collect anonymous information about the way in which you use the website. The information we collect in this way cannot personally identify you. However, we may put this information to good use for improving our services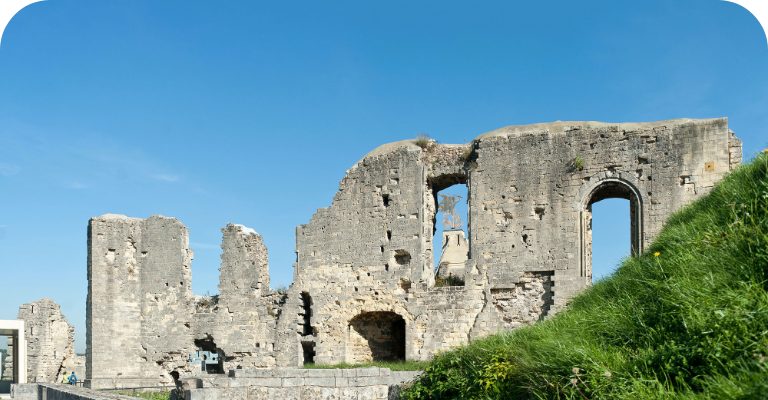 Back to the Middle Ages. The rich history of the Middle Ages lives again with a visit to the Castle Ruins in Valkenburg aan de Geul, and its history dating back to the 11th century!
The Velvet Cave has many secrets. Discover a treasure trove of impressive wall murals, inscriptions, strange sculptures in the soft marlstone walls and a romantic chapel dating from the French period (18th century).
Want to relax after an exciting climb to the ruins? You can have a drink or bite while enjoying a delightful view in our restaurant overseeing Valkenburg and the hilltop castle